District Commander ZNO: now available!
https://hollandspiele.com/products/district-commander-zno
Now available – the fourth and so far final module in the District Commander series.
ZNO stands for Zone Nord Oranais, the operational area depicted in this game… the hill country generally to the south and east of Mostaganem in Algeria, around Mascara – Pelikao – Relizane.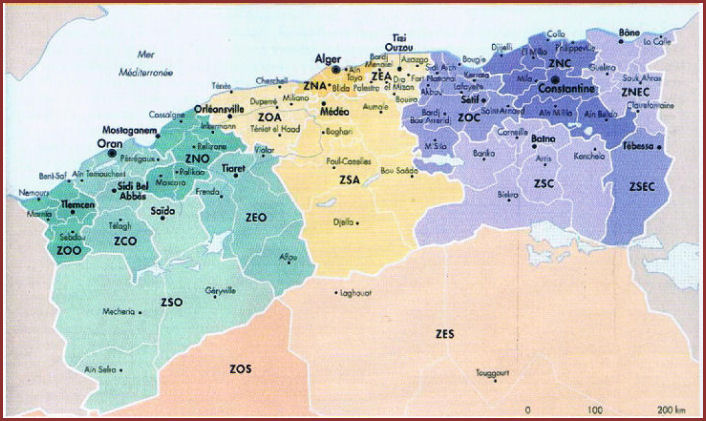 The game is set roughly during 1958-59, when generally either the 4th Motorized Infantry Division or the 5th Armoured Division was responsible for most of the area (it's difficult and rather pointless to pin down as areas of responsibility were constantly in flux depending on mission and deployments of other units).
French combat units that appear in the game include:
Cavalry
1st Cuirassiers (French Army unit, cavalry reorganized for infantry role)
2nd Spahis (mixed French-Algerian cavalry unit)
30th Dragoons
Infantry
6th Chasseurs d'Afrique (mixed French-Algerian light infantry unit)
19th and 20th Chasseurs (French Army light infantry units)
21st Regiment Tirailleurs Algeriens (mixed French-Algerian unit)
battalions of the 93rd and 158 French line infantry regiments
Other
4th, 31st Bataillon Parachutiste Coloniale (elite French parachute unit)
8th Regiment de Parachutistes d'Infanterie de Marine (elite French parachute unit)
Fun things you get to play with in the game include:
– FLN supply convoys;
– Commandos de chasse (special small units of mixed French-Algerian troops (including turned guerrillas) who specialized in reconnaissance and tracking);
– Sections Administrative Specialisees or SAS (French officers given special training and sent to assume control of all aspects of life in selected rural villages to organize indigenous resistance to the insurgents);
– population resettlement (when the SAS didn't do a good job);
– double agents and psychological war assets;
– terror cells;
and more!
Note: Now that this one is properly published, I will be taking the PnP files for this module (with my substandard artwork) down and substituting PnP files for the Maracas module, so a free game of the District Commander system will still be available.